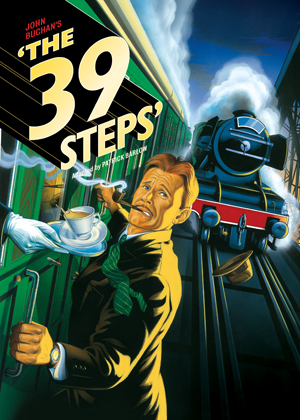 Yesterday was our 7th wedding anniversary and to celebrate we went to the Criterion Restaurant for an early dinner before seeing The 39 Steps at the Criterion Theatre.
Opened in 1873, the restaurant is an amazing building. A long shoebox shaped hall that stretches back from Piccadilly Circus. Marble pillars flank huge mirrors that reflect the gold mosaic tiled ceiling. It looks more like some kind of opulent Turkish bath than a restaurant.
It was at the Criterion Long Bar, on January 1 1881, that Dr Watson mentioned to his friend Stamford that he was looking for someone to share lodgings with.
From A Study in Scarlet:
I was standing at the Criterion Bar, when some one tapped me on the shoulder, and turning round I recognized young Stamford, who had been a dresser under me at Barts. The sight of a friendly face in the great wilderness of London is a pleasant thing indeed to a lonely man. In old days Stamford had never been a particular crony of mine, but now I hailed him with enthusiasm, and he, in his turn, appeared to be delighted to see me. In the exuberance of my joy, I asked him to lunch with me at the Holborn, and we started off together in a hansom.

"Whatever have you been doing with yourself, Watson?" he asked in undisguised wonder, as we rattled through the crowded London streets. "You are as thin as a lath and as brown as a nut."

I gave him a short sketch of my adventures, and had hardly concluded it by the time that we reached our destination.

"Poor devil!" he said, commiseratingly, after he had listened to my misfortunes. "What are you up to now?"

"Looking for lodgings," I answered. "Trying to solve the problem as to whether it is possible to get comfortable rooms at a reasonable price."
After lunch they walked to St Bartholemew's Hospital where Stamford introduced Watson to Sherlock Holmes…
We, on the other hand, walked next door to the Criterion Theatre.
The Criterion is a lovely little theatre. Built on the site of an old coaching inn called the White Bear it was originally intended to be a concert hall but after building work had begun it was turned into a theatre instead.
The theatre is unusual in that it is built underground. In 1882 the Metropolitan Board of Works condemned it on the grounds that it was unsafe in the event of a fire and, as it was lit by gas, there was a risk of toxic fumes so a number of alterations were made including installing electric lights and an air conditioning system. In WWII the BBC took over the underground theatre to use for broadcasts.
The 39 Steps was great. The story follows the 1935 Alfred Hitchcock film (with lots of Hitchcock references and, of course, a cameo) but somehow manages to combine the original spy thriller with a comedy. And it works really well. With nothing but a change of coat, hat and accent, the energetic cast of four manage to portray a hilarious array of characters as Richard Hannay is pursued from his flat in Portland Place to the Scottish Highlands and back again for the thrilling climax at the London Palladium.