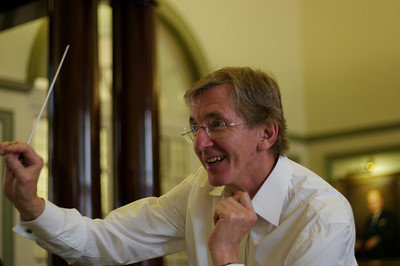 Our dear friend Alan died yesterday. After more than four years of continually surprising the medical profession he finally lost his battle with cancer.
I first met Alan in 2000 after getting in touch through the Guildhall School of Music and Drama. I was looking for a conducting teacher and we arranged to meet at the Guildhall. I was a bit nervous but we talked about conductors and conducting and I waved my arms a bit to show him what I could do. He seemed to see some potential so we started the first lesson right then and there. It was in that first meeting that I learned one of the most important aspects of conducting: the idea that the arm needs to have a kind of 'weight' and it must move in a natural way as if guided by gravity, like a bouncing ball.
From then on for about four years I would make the weekly trip up to Finsbury Park to Alan's flat for our lessons. I remember being very excited to be studying conducting again and would make notes of everything. We studied scores and tried to work on my limited keyboard skills combining both by playing the Art of Fugue score in four different clefs on the piano. Alan impressed on me the importance of the conductor knowing about all the instruments in the orchestra, even to the point of being able to play each one. In this spirit I borrowed his trombone for a while but didn't really succeed in making more than a few fumbling notes out of it.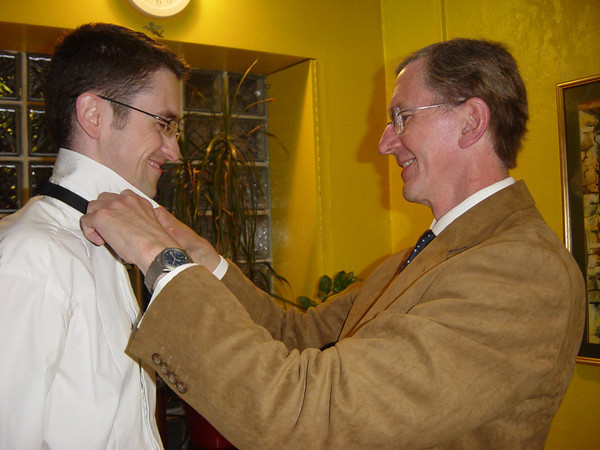 We would also discuss what I needed to do to further my conducting career but, like Alan, I always found the self promotion stuff hard. Each week he would ask "What news?" and I would usually have to sheepishly reply with some lame excuse about how busy I'd been at work. "JFDI, Just … Do It" he would say and I stuck this motto to my mirror to remind me every day. But if it weren't for Alan I'm sure I never would have done as much as I have. It was only through his encouragement (and Kathryn's support) that I started doing concerts in London. No matter how small the audience he was always there and encouraging. I remember at the first rehearsal for my first concert I arrived at St Giles to discover I had left half the music at home so while I started the rehearsal Alan and Kathryn made a dash in his car across London to fetch the music. This was Kathryn's first experience of Alan's unique driving style.
Music is: A non-specific human language consisting of organised sound on a background of silence on a framework of time.
Soon after starting lessons I joined his orchestra and this was a chance to not only play in a great band but also watch rehearsals. I would take my scores along to rehearsal and we would discuss how it went at lessons. I think I only did one concert before Kathryn also joined the orchestra. I know she was a bit afraid of Alan at first, worried that he would make her play something on her own but she soon realised he wasn't as scary as she first thought. Over the years we three became close friends. On this day exactly three years ago Alan was there to see us become British citizens.
I think Alan was always a bit disappointed that he didn't achieve the same fame in his conducting career as his grouchy old teacher Sergiu Celibidache but there are more important things in life than fame. He made a lasting impression on hundreds of people; directly through friends, students, orchestra members and audiences, and indirectly through students passing on his influence and what he taught them. Eight years is quite a long time to know someone but at the same time not long at all.
Alan Hazeldine, conductor, pianist and teacher was born on July 5, 1948. He died of cancer on November 10, 2008, aged 60.