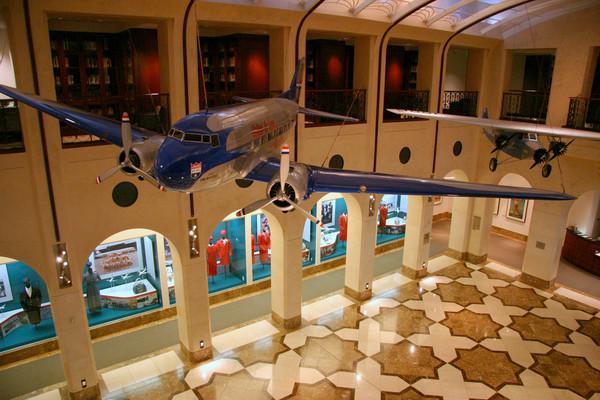 Where's the best place at SFO to kill an hour? Not the Northwest WorldClub where I'm typing this (although it is a fairly nice lounge – mmm, chocolate chip cookies). No, the best place is the San Francisco Airport Commission Aviation Library & Louis A. Turpen Aviation Museum. Who would have thought there is a whole museum in the airport?
The museum is just before security at Concourse A and is a lovely, quiet space with plenty of chairs and lots of interesting exhibits. The museum's collection is housed in a two story room modelled on the Passenger Waiting Room of the 1937 San Francisco Airport Administration Building. The top floor is an aviation library with over 6,000 books and periodicals. The bottom floor houses different exhibits from the collection. At the moment they have an exhibition on Cathay Pacific on one side and aviation toys on the other. There are some marvellous steel planes and zeppelins.
The museum is open 10:00 AM to 4:30 PM Sunday through Friday, so if you happen to be waiting for a flight around then I thoroughly recommend taking a look.