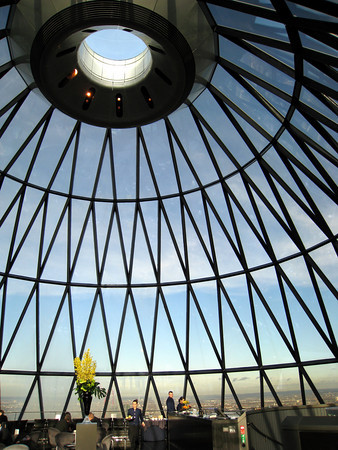 Last Wednesday we had lunch at 30 St Mary Axe, otherwise known as the Gherkin. Designed by Foster and Partners, it is the second tallest building in the City and one of my favourite London buildings. For years I've been meaning to see inside on one of the London Open House days so I was excited when Kathryn managed to book a table for lunch at the exclusive restaurant at the top of the building. The restaurant is a private dining club and so is not open to the public.
The very top of the building houses a bar with an incredible view. The effect is so stunning it is hard to describe. It really is at the top with nothing but a cone of glass above. This means that unlike most skyscrapers, the building cannot house the lift equipment at the top so a standard lift goes to the 34th floor and then you have to change to another lift that pushes you up to the 39th. This is the restaurant floor and then a marble staircase leads up to the 40th floor bar.
Unlike the day before the sun was shining and we could see all the way from Canary Wharf to Battersea Power Station and beyond. Check out the pictures in my new SmugMug gallery.